Flexible travel to: Hen Parties, Stag Parties, Birthday Parties, Ann Summers Parties,
Ladies Nights, Gentleman's evenings, Office, Charity and Leaving functions. Last minute bookings.
Fun Pose Ideas for Hen Party Pictures and Selfies
It's not often all your best friends come together for a night of bonding, hedonism and wild fun. Whether they're bridesmaids, sister's, best friends or university mates, capture the most memorable moments of your hen party, hen weekend or during the wedding planning with them all by your side. Below are fun ideas for poses and capturing the moment on your smart phone!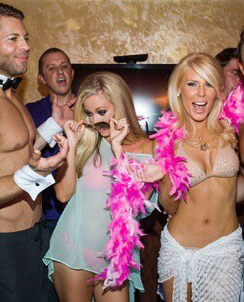 Mid Laughter
If you anticipate something amusing is about to happen at your hen party, like the arrival of a male stripper, have the camera ready to capture fits of giggles amongst your best friends. Capturing genuine scenarios mid laughter often makes excellent photographs.
Lounging together on a Hen Weekend
Whether you're slumbering in pyjamas, boyfriend's T shirts or huddled up together on the sofa in front of a log fire on a hen weekend trip. Capturing moments of you all chilling out bonding in lounge wear can evoke strong happy memories thereafter.
Preening each other
Helping each other get ready to go out on the razzle in town for a hen night is half the fun. Strike funny poses while you preen each other.
Bonding/ Displays of Affection
Whether you're hugging, cuddling or bundling on the bed after a wild hen night. Action poses and displays of affection always make excellent pictures.
Kisses
Get the bridesmaids to kiss the bride to be from each side for a fun and affectionate pose.
The Bum/ Turn Around Pose
If you enjoy flaunting for the camera stand with your back/ bum facing the camera and turn your heads around for a sassy fun shot.
The Shoe Pose
It's no secret girls love shoes. For variety and to kick off conversations about who bought their shoes where, strike a fun pose capturing you all wearing your best party shoes in a line.
The Serious Face pose
Fashion magazines often feature cover models with sultry, serious facial expression poses. It can add variety, emotion and glamour to your album instead of the usual contrived camera smile.
Perspective and Profile Pose
Spontaneous perspective shots of people's profile can add drama and capture more authentic facial expressions.
Charlie's Angels Pose